Satsang with Mooji ~ Tiruvannamalai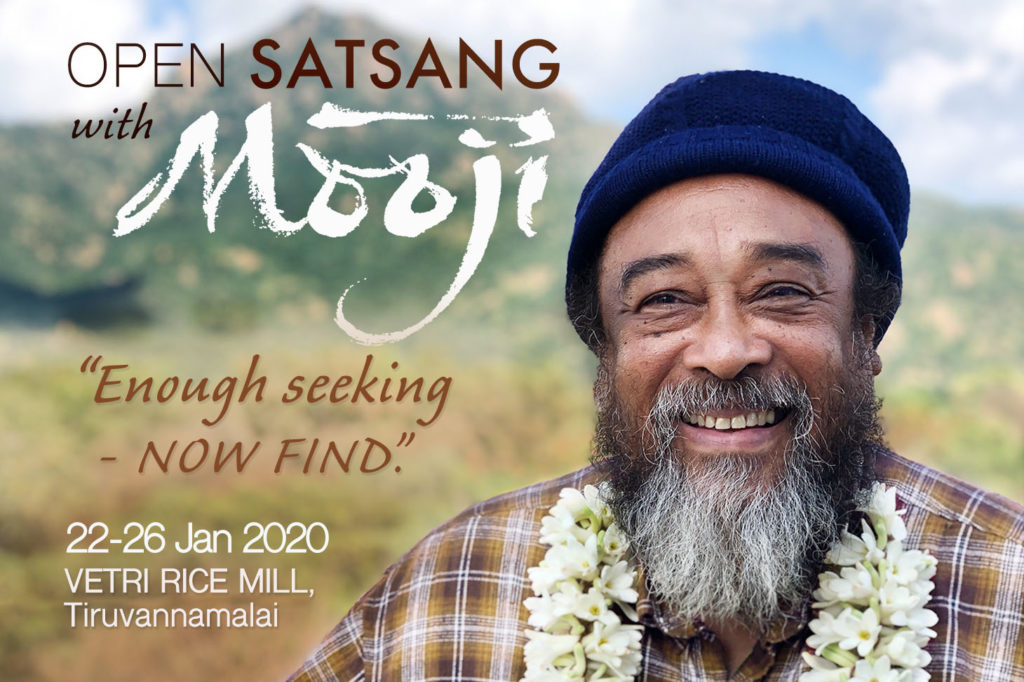 We are very happy to share that Mooji has been invited to offer 5 days of Satsang in Tiruvannamalai in January, 2020. Moojibaba came to Tiruvannamalai to be at the feet of Arunachala, and these Satsangs arose spontaneously in response to many requests that have come to him. We are delighted and deeply honoured for these Satsangs to be taking place in the holy town of Tiruvannamalai in the powerful presence of Arunachala.

Location & Schedule
Vetri Rice Mill
Tiruvannamalai, India

Satsangs will take place daily from 22 – 26 January at 10am. Satsang generally runs for 1.5 – 2.5 hours, but also occasionally longer or shorter.

The Satsangs are free of charge; donations are welcome.
These Satsangs are made possible by your donations which can be made onsite at the event. Your contribution will help with costs such as hiring of the venue, audio & video equipment, furnishing etc. We are very grateful for your support.


Important! We are not sure how many are able to attend on short notice, however the venue capacity is relatively small (500 compared to the usual Rishikesh venue of 2000). Priority will be given to those living in India. 
Detailed information about the Tiruvanamalai Satsangs can be found on Mooji.org.

You can find out more about the Rishikesh event here.
Practical Information
Below you will find useful practical information about Health & Safety, and Accommodation. This information is offered to make your planning and travel easier and is provided for informational purposes only.

Sahaj Samadhi Seva Trust does not profit from any of these recommendations, and this information does not constitute an endorsement by Sahaj Samadhi Seva Trust of any of the individuals or businesses mentioned. Please use your own discernment when using any of these or any other services during your travels.

Accommodation
It is very important to book your accommodation in advance.
It is a very busy time in Tiruvannamalai in January when Satsangs are taking place. You can look for a place to stay using websites such as Booking.com, Wikitravel or Tripadvisor
Important! Only use reputable, established websites when booking accommodation, or contact hotels or guest houses directly. Sometimes people are approached online to make private bookings that do not turn out as expected.
Health & Safety
People coming to India may experience some kind of sickness during their stay. Common symptoms are diarrhoea, tiredness, nausea, or fever. It is important to take care with what you eat and drink during your stay. There is a wealth of travel health advice on the internet. Centers for Disease Control and Prevention provides complete travel health recommendations. Also Lonely Planet is another good source of information.

It is best to check with your doctor or health clinic regarding the medication you should take and what vaccinations are recommended or required for visiting India. If you become ill during your stay, it is important to see an allopathic doctor.
HEALTH INSURANCE
If your health insurance doesn't cover your medical expenses abroad, consider getting travel health insurance. In India, treatments are generally paid for in cash. Make sure you understand your policy and how to make a claim before travelling to India. If you do have to make a claim to your insurance company, ensure to keep all relevant documentation.
FOOD AND WATER
Do not drink water from the taps unless you know it has been filtered with a very good water filter as one can become very ill from drinking contaminated water. If your stomach is sensitive, it is advisable to avoid street food.
DRESS CODE
Culturally in India it is essential to dress modestly, especially in an ashram and when visiting a holy city such as Tiruvannamalai. We ask all those attending Satsang to respect this tradition and to make the effort to dress and behave in such a way that is in harmony with the local way of life. Shoulders, chest, buttocks and knees should be covered. Clothing should be loose and not transparent.
Safety
It is not advisable to walk alone at night, especially for women. Women travelling alone are also advised to take some extra precautions. National Geographic has some useful tips for solo women travellers here.
Take care when travelling. For example, luggage should never be left unattended, and you should be aware of con men at the stations and in public transport. You should not accept any drinks or food items from any stranger while travelling in train or bus.
An over-the-neck passport bag or money-belt to carry money and passport are advisable to keep your valuables safe.
Take good care when walking on the roads in India. Be sure to use a torch at night to make yourself visible to vehicles passing by. Note that vehicles drive on the left-hand side of the road. The pedestrian pathways also follow the rule to walk on the left.
Never wear loose or flying scarves/shawls when on scooters, motorbikes, rickshaws etc. Loose material can get caught in the wheel, and very quickly cause serious injury such as choking.
General Tips
Shoes are not to be worn inside temples or Ashrams. Generally shoes are not worn inside most buildings. Footwear is usually left outside at the entrance of the building. Bring good shoes that can be taken on and off easily.
Avoid public displays of affection, such as hugging, walking hand in hand and kissing.
Smoking in public places is an offence in India and you should observe this rule in all public places, including restaurants and public transport.
If you feel to give money to beggars, ten rupees is a good amount.

The most important thing in life is to wake up to who you truly are.
You are not merely a personal being; you are the living spirit of Truth.
You are the light of consciousness revealing all.
You are the perceiving presence devoid of desire and attachment.
You are the wisdom and love that shines from the source of existence.
You are unborn Awareness.
~ Mooji