Satsang with Mooji ~ Rishikesh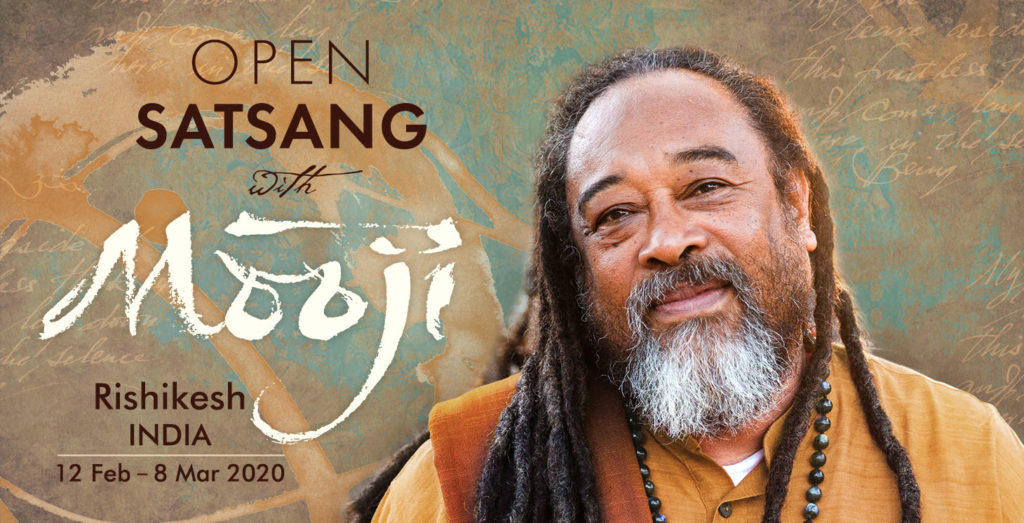 When you choose life, life chooses you;
when you choose freedom, freedom chooses you.
The moment your heart turns towards itself,
your mind gets absorbed in Truth.
There is nothing that you are going to find in life
that can compare with your natural being.
~ Mooji
About
Schedule, Location & Helping
Travel & Accommodation
Health & Safety
Donations
These four weeks of Satsang with Mooji offer a powerful opportunity for many beings to be immersed in the energy field of Satsang. The Satsangs are free and open for everyone who is called to discover who they truly are. During Satsang, Mooji speaks with seekers of Truth as they bring forward burning questions, doubts and testimonies in relation to their search for lasting peace, joy and liberation.

~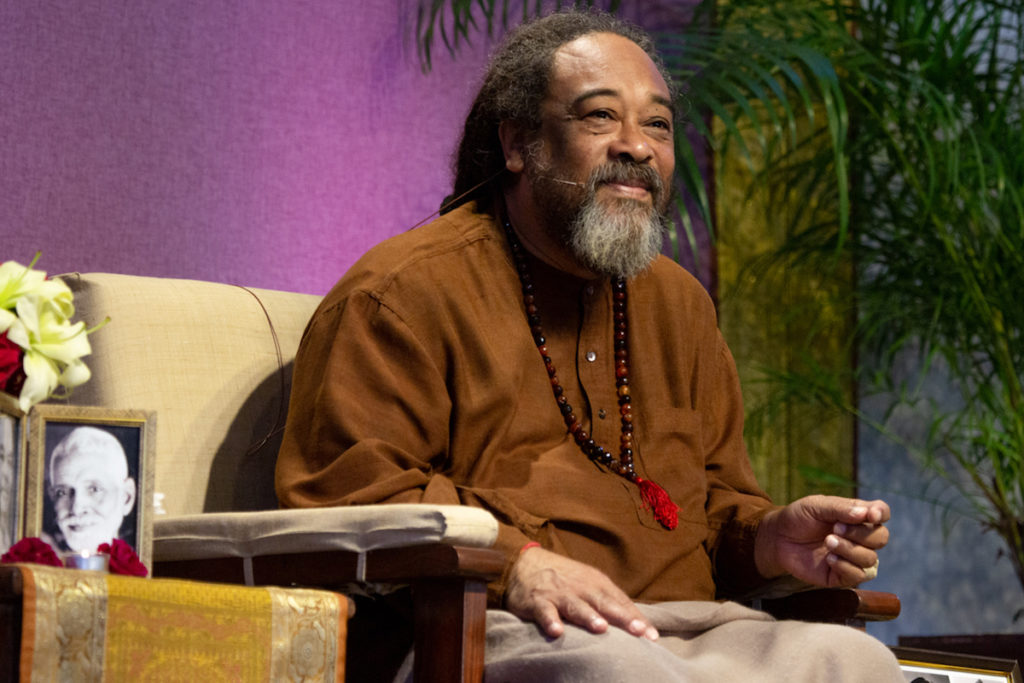 SCHEDULE
The Satsangs are offered from 12 February to 8 March. They are generally scheduled from Wednesday to Sunday (no Satsang on Monday and Tuesday) from 10:00 – 12:00.

This may change, so please check here closer to the date. You can find the most complete and up-to-date schedule here.
These Satsangs are free and open to all, and it is possible to attend any or all of the Satsangs that are scheduled throughout these 4 weeks. Everyone attending Satsang must arrange their own food and accommodation.

~
IMPORTANT HEALTH ANNOUNCEMENT! Your health and that of other participants is of utmost importance. Please read and take to heart this important Health Announcement about the recent outbreak of the new Coronavirus.
~
SCHEDULE UPDATES
Satsang with Moojibaba ~ International Yoga Festival
Parmarth Niketan Ashram, Rishikesh
Tuesday, 3 March, 11:00 – 13:00 IST
Note: There is no live broadcast planned for this Satsang at the moment.
Find out more about the International Yoga Festival.
Satsang with Moojibaba ~ Yog Festival
Ganga Resort, Rishikesh
Thursday, 5 March, 16:00 – 17:30 IST
Note: There is no live broadcast planned for this Satsang at the moment.
Find out more about the Yog Festival.
~
LOCATION
Swami Swatantranand Ashram, Rishikesh
स्वामी स्वातंत्रनंद आश्रम, ऋषिकेश
(opposite Swami Dayananda Ashram)
Shisham Jhari, Muni-ki-reti
Rishikesh, Uttarakhand
~
HELPING
If you would like to help during the Satsang season please come to the Info Desk at Swami Swatantranand Ashram to let us know about your availability.
~
Detailed information about the Satsang season can be found on Mooji.org.
~
PRACTICAL INFORMATION
Below you will find useful practical information about health, accommodation and travelling to and around Rishikesh. This information is offered to make your planning and travel easier and is provided for informational purposes only.
Sahaj Samadhi Seva Trust does not profit from any of these recommendations, and this information does not constitute an endorsement by Sahaj Samadhi Seva Trust of any of the individuals or businesses mentioned. Please use your own discernment when using any of these or any other services during your travels.

Travel & Accommodation
Accommodation
Accommodation is not provided as part of this event. It is essential to book your accommodation in advance. It tends to get busy in Rishikesh during February and March when Satsangs are taking place. You can look for a place to stay using websites such as Booking.com, Tripadvisor, or other travel sites.
Important! Only use reputable, established websites when booking accommodation, or contact hotels or guest houses directly. Sometimes people are approached online to make private bookings that do not turn out as expected, or are asked to pay in advance to private agents, only to arrive and not have a room, nor get a refund.
Before You Travel
VISA
A valid visa is required to enter India. Along with the usual visa that you get from the Indian Embassy in your country, there is also an online visa facility, e-Visa. The detailed information on e-Visa is available at the Government of India website.
HEALTH INSURANCE
If your health insurance doesn't cover your medical expenses abroad, consider getting travel health insurance. In India, treatments are generally paid for in cash. Make sure you understand your policy and how to make a claim before travelling to India. If you do have to make a claim to your insurance company, ensure to keep all relevant documentation.
VACCINATIONS
Check with your doctor or health clinic which vaccinations are recommended or required for visiting India.
CURRENCY
The currency is the Indian rupee (₹ INR). It is possible to change your money at Delhi airport, however the exchange rate may be high. You can also change your currency to rupees at the banks or at the exchangers in Rishikesh. Authorised currency exchangers will give better conversion rates. Here are some examples of some such exchangers:
JPJN Gems, near Honey Hut, Lakshman Jhula
Ganga Forex, near Post Office, Lakshman Jhula
Sood & Sood, near Honda Showroom, Dehradun Road, Rishikesh
There are also ATM cash machines in Rishikesh where one can withdraw cash using a credit card or a bank card.
Travel
New Delhi (New Delhi Indira Gandhi International Airport) is the closest international airport to Rishikesh. Rishikesh is around 240km from Delhi, and some options for travel from Delhi to Rishikesh are to take a domestic flight, train or taxi.

From Delhi Airport into Delhi
Taxi: You can buy a prepaid ticket at the official taxi counters inside the airport. Look for the "Prepaid Taxi" sign just outside of baggage claim, but still inside the airport.
Metro: The Airport Express Metro Line runs from 4.45 – 23.15 and should take around 25 minutes to New Delhi Metro Station. Airport Metro is the most convenient way to reach New Delhi Railway station.
GETTING TO RISHIKESH
By air
It is possible to take a domestic flight to Dehradun Airport, which is approximately 21 km from Rishikesh. A good website to find domestic flights is Cleartrip.
By train
From Delhi you can travel by train to Haridwar Junction Railway Station, which is around 21km from Rishikesh. The train tickets are reserved well in advance. You can register with Indian Railways and reserve a train ticket here. Tickets can also be reserved at travel websites such as Cleartrip, after registration with Indian Railways.
Please note that trains from Delhi to Haridwar are very limited up to 9 February, 2020, due to some construction work by Indian Railways. If you want to travel by train, one good train, called Dehradun Shatabdi, is operational throughout. It departs from New Delhi station at 6:45am, and reaches Haridwar at 11:30am.
By taxi
To arrange a taxi from Delhi, Haridwar Junction Railway Station, or Dehradun Airport, the following may be helpful: Taxi Pricing.
IMPORTANT! Be sure to receive clear instructions from your taxi company about how to correctly identify your driver. There have been reports that other taxi drivers may pretend that they have come to pick you up – they may even know your travel details or have a story about how the original driver could not come.

PLEASE NOTE:
30 January & 21 February, 2020, are auspicious days for Hindus to take a dip in the holy waters of Ganga, so avoid travelling through Haridwar on these days where possible. It is ok to travel on these days if you are flying to or from Dehradun Airport.
8 February, 2020, is election day for Delhi state. It is best to avoid traveling through Delhi that day if possible. Getting a local taxi may be difficult, and shops, restaurants etc will be closed.
9 & 10 March, 2020, is Holi, the festival of colors, so it is advisable to avoid travel on these days.
GETTING ABOUT IN RISHIKESH
By auto-rickshaw
Auto-rickshaws are a reasonable means of transportation and they often pass the main road near the Ashram where the Satsangs will take place. They provide very cheap transportation whether you choose a private one, or join a 'Shared Rickshaw', which transports many passengers. Rickshaws usually run until 21.00. If you plan to stay out late, make sure you arrange a vehicle in advance.
Rickshaw prices can be found here.
On Foot
Rishikesh is a lovely place to discover on foot. Ram Jhula and Lakshman Jhula are walking distance from each other and it's a beautiful walk along the banks of the Ganga. Women are strongly advised not to walk alone, especially after sunset. In the evening it is generally better to move as a group and with male companions.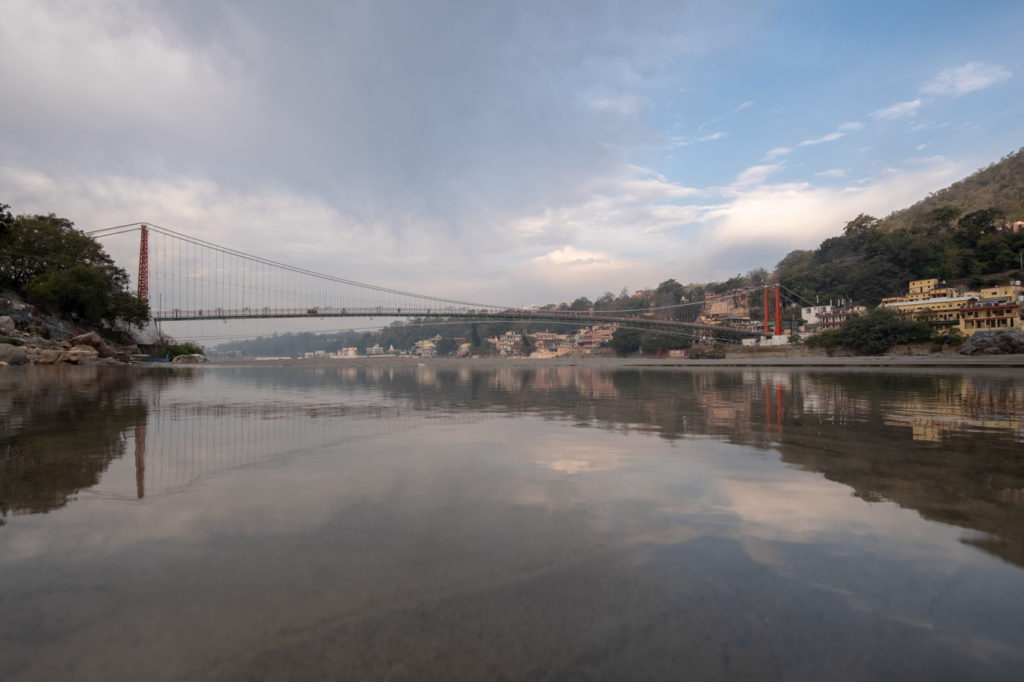 Health & Safety
Health
IMPORTANT HEALTH ANNOUNCEMENT! Your health and that of other participants is of utmost importance. Please read and take to heart this important Health Announcement about the recent outbreak of the new Coronavirus HERE.
~
People coming to India may experience some kind of sickness during their stay. Common symptoms are diarrhoea, tiredness, nausea, or fever. It is important to take care with what you eat and drink during your stay. There is a wealth of travel health advice on the internet. Centers for Disease Control and Prevention provides complete travel health recommendations. Also Lonely Planet is another good source of information.

It is best to check with your doctor or health clinic regarding the medication you should take to India and what vaccinations are recommended or required for visiting India.

If you become ill during your stay, it is important to see an allopathic doctor.
FOOD & WATER
Do not drink water from the taps unless you know it has been filtered with a very good water filter as one can become very ill from drinking contaminated water.

Rishikesh is a holy town, so generally don't expect to find any meat, fish, or eggs here. There are plenty of good restaurants in Rishikesh with a variety of foods for Western tastes as well as offering delicious local Indian food. If your stomach is sensitive, it is advisable to avoid street food.
DRESS CODE
Culturally in India it is essential to dress modestly, especially in an ashram and when visiting a holy city such as Rishikesh. We ask all those attending Satsang to respect this tradition and to make the effort to dress and behave in such a way that is in harmony with the local way of life. Shoulders, chest, buttocks and knees should be covered. Clothing should be loose and not transparent.
Safety
It is not advisable for anyone to walk alone, especially women at night.
Do not accept rides or offers to be shown around from strangers, especially if you are alone.
Women travelling alone are also advised to take some extra precautions. National Geographic has some useful tips for solo women travellers here.
Take care when travelling. For example, luggage should never be left unattended, and you should be aware of con men at the stations and in public transport. You should not accept any drinks or food items from any stranger while travelling in train or bus.
An over-the-neck passport bag or money-belt to carry money and passport are advisable to keep your valuables safe.
Take good care when walking on the roads in India. Be sure to use a torch at night to make yourself visible to vehicles passing by. Note that vehicles drive on the left-hand side of the road. The pedestrian pathways also follow the rule to walk on the left.
Never wear loose or flying scarves/shawls when on scooters, motorbikes, rickshaws etc. Loose material can get caught in the wheel, and very quickly cause serious injury such as choking.
General tips
Bring some warm clothing. Although it can be sunny in the daytime with temperatures around 19-26 °C, at night it can drop to around 7-10 °C. Rain is very likely at this time of year.
Shoes are not to be worn inside temples or Ashrams. Generally shoes are not worn inside most buildings. Footwear is usually left outside at the entrance of the building.
Bring good shoes that can be taken on and off easily.
Avoid public displays of affection, such as hugging, walking hand in hand and kissing.
Smoking in public places is an offence in India and you should observe this rule in all public places, including restaurants and public transport.
If you feel to give money to beggars, ten rupees is a good amount.
A note about people asking for money or support.
It has come to our attention that sometimes people approach the Sangha for financial help. You might have seen them in a photo or video of themselves with Moojibaba, and regard this as a sign of their being genuine.
Unfortunately this is not always true. There are some that we may love as a Satsang brother or sister but they do this regularly out of habit.
If someone from Satsang approaches you asking for money, the International Sangha team can let you know if we have seen a habit or a pattern forming.
Connecting on Facebook
You can connect with fellow travellers who are attending Satsang with Mooji through our event page on Facebook: Satsang with Mooji — Rishikesh 2020.
Please use your discernment and take all appropriate care and precautions when using social media, especially if arranging to share rides etc. This Facebook page is offered to make your planning and travel easier, and does not constitute an endorsement of any of the individuals using the page.
These Satsangs are made possible by your donations which can be made onsite at the event. Your contribution will help with costs such as hiring of the venue, audio & video equipment, furnishing etc. We are very grateful for your support. You can donate online here.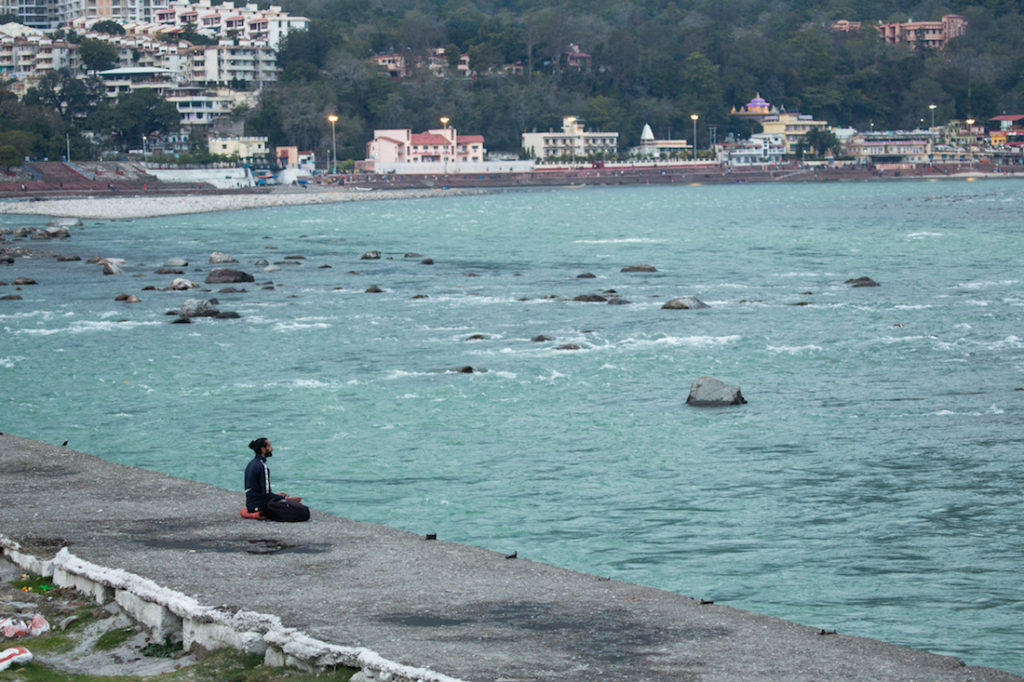 The most important thing in life is to wake up to who you truly are.
You are not merely a personal being; you are the living spirit of Truth.
You are the light of consciousness revealing all.
You are the perceiving presence devoid of desire and attachment.
You are the wisdom and love that shines from the source of existence.
You are unborn Awareness.
~ Mooji